The VAM and Caravel are machines with a low maintenance, limited to replacement of the seals of the piston.
| | | | |
| --- | --- | --- | --- |
| | The piston is composed of three parts: | | |
| | - the head for attaching the piston to the boiler | | the head is fixed on the boiler on early models with a ring and a mechanism that rotates and blocks the head on the boiler. The ring disappears in later models that use a removable pin. |
| | - the hub | | the hub on the first model is spherical, then flat and finally protected by a sleeve |
| | - the body with seals | | the piston body in the first model uses two identical sealing lip, in the second model the top seal is replaced with an o-ring. in the last model the seals are replaced with the adoption of two internal o-ring. On all models (except VAM 1.0) there is a small o-ring inside. |
Types of piston
type 1a
type 1b
model with hub spherical, piston not removeable and no hole on the bottom (VAM)

type 1c

model with hub spherical, piston removeable with hole on the bottom (VAM)

type 1c

model with hub flat

model with hub flat and sleeve

type 2
type 3
model with hub flat, sleeve and o-ring

model without seals (inside piston housing)
The seals
The original seals, of course, are no longer available so the only solution is to find seals compatible or to make custom replica.
I experimented both the solutions:
- NBR commercial u-cup gaskets (different size but suitable)
- silicone custom u-cup gaskets (replica of original ones)
Seals replacement
To proceed with the replacement of the 3 seals, must dismount the body of the piston, removing the ring that secures it to articulated shaft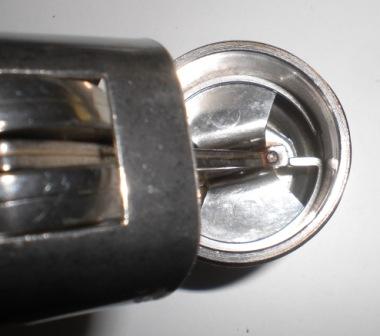 <![if !vml]><![endif]>
Then remove the small o-ring seal on the bottom of the piston with tweezers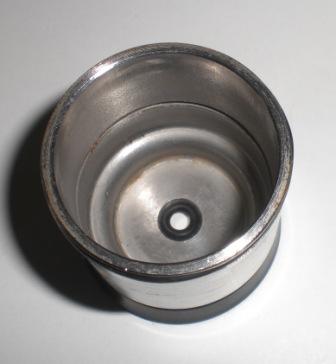 <![if !vml]><![endif]>
remove the other two seals and clean the piston from the residues of fat or limestone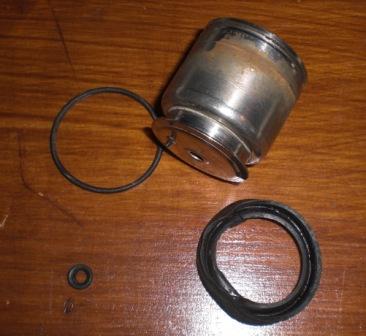 insert the new gasket and refit the shaft
before reinserting the piston into the boiler lubricate the seals with silicone-based grease for food contact.