The FE-AR, founded in Milan by Felice Arosio, has produced over a long period from the late 50s to mid 80s only a model of lever machine, originally named La Piccolina and marketed by Carimali and later renamed La Peppina.
Remains substantially the same over time, with minor cosmetic changes. In the 80 is introduced the Termomatica model with thermostat and double switch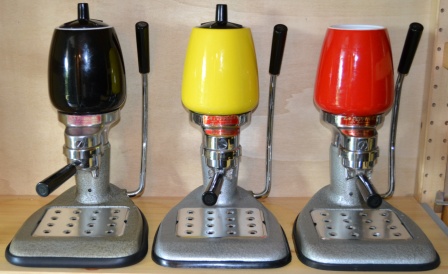 Has open boiler and piston with spring. Pushing the lever, compresses a spring that pushes the piston with the right pressure to make good espresso.
Is the lightest lever machine (weighs only 3.5 kilograms) and can be dismount easily in just a few pieces. None of the parties that compose it from a feeling of strength and durability, beginning with the holder, light as a feather, to continue with the body that provides the group and the heating element, until the kettle enamel that acts as the boiler open.
Despite all we are fascinated by the genius and originality of the whole. And you forgive the rest.

Description
1960
La Peppina first model

(v. 1.0)

model conforming to the original patent

(sn 4139)

1960
La Piccolina

(v.1.1)

first model produved by FE-AR and marketed by Carimali
1963
La Peppina First model
model with grid holed and enamel kettle
1965
second model

(v.2.0 London)

intermediate model between the first (for the kettle and lid) and the second (for the base and grid)

(sn 04109)

1966
second model

(v. 2.0 MEC)

analogous to previous model

(sn 69086)

1968

(v. 3.0)

modello 700W con griglia a rete e caldaia smaltata nuovo disegno
1975
second model 700 watt

(v.3.0)

model 700W with airtight lid for steam

(sn 5 07)

1976
third model 950 watt

(v 3.1)

model 950W
1979
second model 1100 watt

(v.3.2)

model 1100 watt - 110 V
1980
third model

(v.3.3)

model 1000 watt, lever and grid modified

(sn 1 05)

1985
third model

(v.3.4)

analogous to previous with part black painted and plastic drip tray
1985

Termomatica

(last model)

model 1000W with thermostatic control