From 1990, on the model Europiccola is no longer possible to mount the pressure gauge because La Pavoni reduced the hole of upper retainer from 12 mm to 11 mm while the pressure gauge nut  is 12 mm.
To resolve this problem you have two solution:
- use a 11 mm nut
- replace the upper sight glass retainer with the one for professional model which his hole is 12 mm.
On previous models (recognizable by protection sight glass revolving metal and not plastic), the gauge can be mounted directly using a 12 mm nut.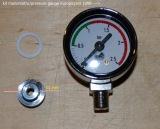 | | |
| --- | --- |
| <![if !vml]><![endif]> | <![if !vml]><![endif]> |
| BEFORE | AFTER |
The pressure gauge allows you to monitor the proper functioning of the pressure and allows an immediate diagnosis in case of malfunction of the same.
To install the pressure gauge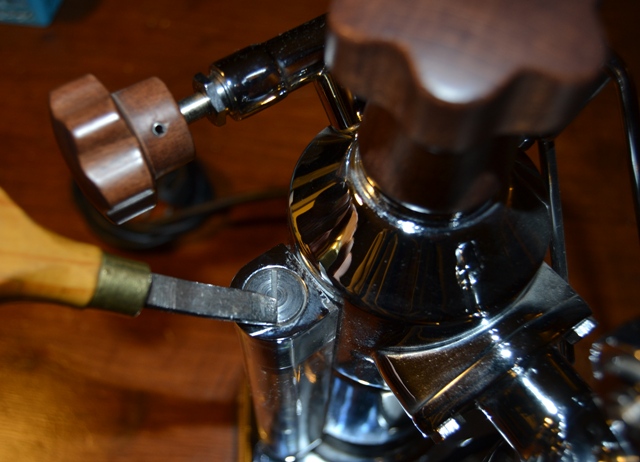 unscrew the cap, possibly tapping with a hammer on a screwdriver positioned oblique to the outside, so as not to damage the cap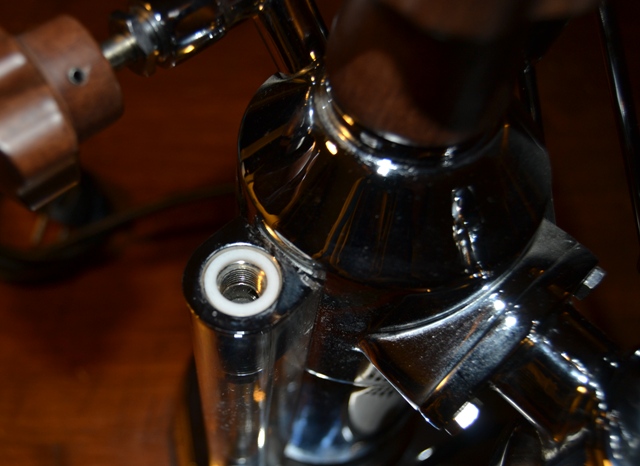 put the gasket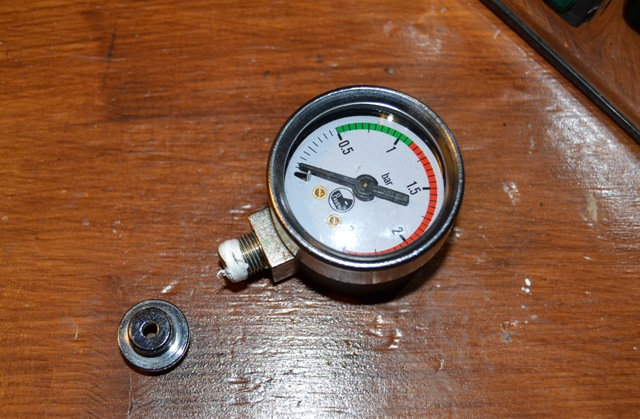 a little bit of teflon tape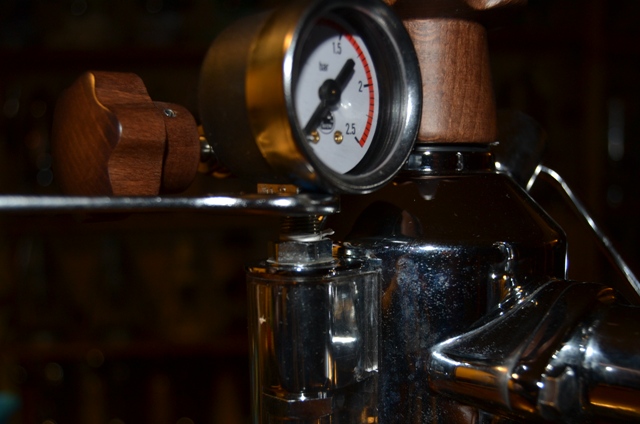 tighten with a wrench 14 positioned on the squared support of the gauge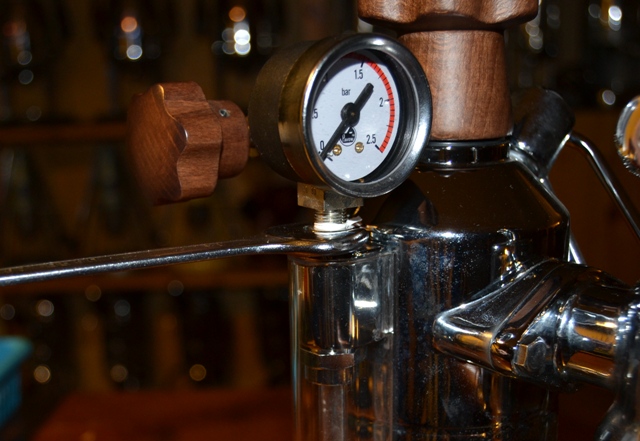 absolutely not tighten the nut, you will damage gasket and nut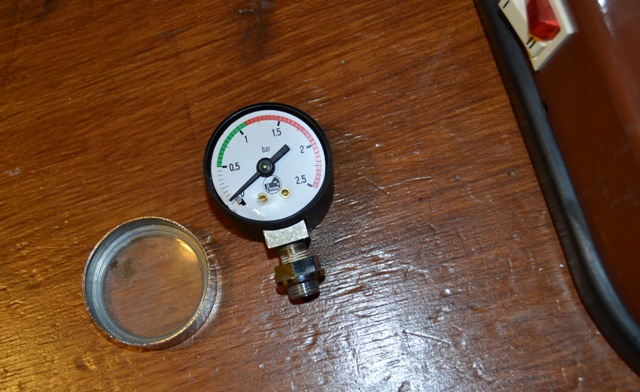 in the case of Europiccola 80's, during screwing, the gauge tends to touch the boiler, in this case remove the protection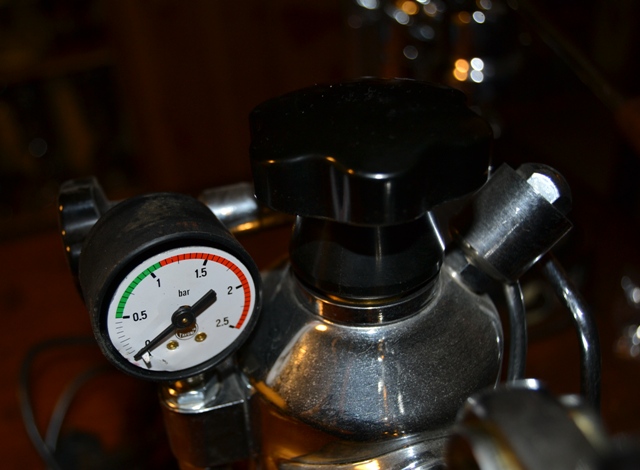 screw the gauge and put again the protection
If you have not availability of the 11 mm nut, then you have to replace the upper retainer.
The replacement   is not particularly complicated and can be performed without special equipment.
PARTS NEEDED:

<![if !supportLists]> - <![endif]>PRESSURE GAUGE (69 - cod. 453040)

<![if !supportLists]> - <![endif]>PRESSURE GAUGE NUT (68 - cod. 3120104)

<![if !supportLists]> - <![endif]>WHITE SIGHT GLASS WASHER  (64 - cod. 362021)

<![if !supportLists]> - <![endif]>UPPER SIGHT GLASS RETAINER  MOD. PROFESSIONAL (59 - cod. 31111441)

<![if !supportLists]> - <![endif]>WHITE SIGHT GLASS WASHER  (64 - cod. 362021)

<![if !supportLists]> - <![endif]>BRASS WASHER (65 - cod. 313003)

<![if !supportLists]> - <![endif]>SIGHT GLASS TO BOILER NUT (66 - cod. 313525)

<![if !vml]><![endif]>
HOW TO DO

<![if !vml]><![endif]>

<![if !vml]><![endif]>

<![if !vml]><![endif]>

Remove the group by unscrewing the two bolts with a 10 mm wrench

Remove the plastic protection using a screwdriver or a hook

Remove the cap level with a screwdriver, inclining and positioning toward the outside of the groove to prevent damage

<![if !vml]><![endif]>

<![if !vml]><![endif]>

<![if !vml]><![endif]>

Unscrew the sight glass nuts with a 16 mm wrench

Turn the glass with your fingers and push upwards

Get a 16 mm wrench

<![if !vml]><![endif]>

<![if !vml]><![endif]>

<![if !vml]><![endif]>

Unscrew the nut inside the boiler

Remove the upper sight glass retainer

The nut and brass washer are inside the boiler, the plastic washer outside

<![if !vml]><![endif]>

<![if !vml]><![endif]>

<![if !vml]><![endif]>

Prepare the new upper sight glass retainer(professional model) and use a new gasket, washer and nut to prevent loss of water

with your fingers positioned the nut and washer inside the boiler

insert the plastic washer and screw the retainer to the boiler

<![if !vml]><![endif]>

<![if !vml]><![endif]>

<![if !vml]><![endif]>

Tighten the retainer with the wrench, stop the retainer with a tip or screwdriver

Verify that the retainer is tight, re-mounted glass sight level, insert the plastic washer

Screw the gauge nut with the hands without tighten

<![if !vml]><![endif]>

<![if !vml]><![endif]>

<![if !vml]><![endif]>

Use teflon tape to prevent leakage of water or steam

Screw the pressure gauge on the nut with a wrench 16 mm

Screw the pressure gauge very well with positioning correctly