... IF THE RED LIGHT WILL NOT TURN ON YOUR EUROPICCOLA
If you have a Europiccola produced between 1995 and 1998, the red light does not turn on, because of the lack of the power wire of the lamp itself. Is it easy to spot if you are in this situation because one of the five contacts of the switch is free (on the bottom, at right). Is it difficult to justify such an oversight by La Pavoni and even more serious that the problem has been resolved after a few years. However, the recovery action is trivial, just add a wire between the pressurestat (1) and the free contact of the switch (2).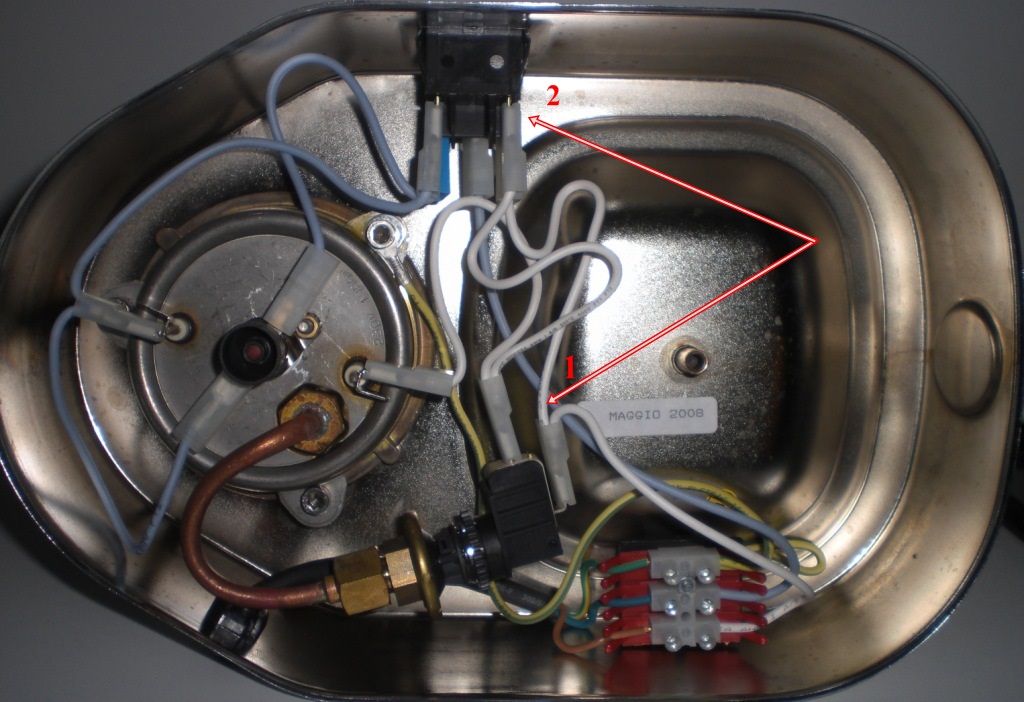 ... IF LEAVE OPERATE FOR LONG TIME
You must remember that these machines are designed for domestic use and not professional, it is assumed to be used just for the time to make coffee. If is it used for several hours, there are some nuisances
| | |
| --- | --- |
| | |
| the wood cap can crack in several points, the plastic thread can partially melt | the plastic cover can deform |
...IF LEAVE OPERATE WITHOUT WATER
Is one of the most serious neglect that you can do, at best the thermostat saves the heating element, but not always. But if there is not the thermostat, cannot happen more than you can see below

| | |
| --- | --- |
| | |
| cover melted like a candle | heating element broken |
| | |
| drip tray deformed | sub-base melted |
... IF NOT OPERATING FOR A LONG TIME
It can happen for various reasons, to put the machine aside, usually in the basement or garage without worrying about empty the tank and wiped up that sometimes stagnated under the plastic tray. Often the action of rust does damages irretrievable the base
| | |
| --- | --- |
| | |
| drip tray very rusted | bottom of the base completely rusted |
... IF NOT MADE PERIODICALLY DESCALING
Depending on the type of water used and how often you use the machine, it is normal to form deposits, mainly limestone. You can easily descale the boiler, filling it with white vinegar and letting it act the time necessary (from several hours to several days). The limestone, if excessive, may clog the brass pressure pipe making it inefficient
| | |
| --- | --- |
| | |
| | is it incredible but was working! |
... IF HAVE A TEFLON PISTON
If you have a machine produced between 1996 and 2006, the piston is made of teflon instead of brass. It is not clear the reason for which La Pavoni make this choice but it is clear the reason why she returned to use again the brass piston: frequent loosening of the shaft of the piston and fracture after 10 years of usage, if you were lucky.
| | |
| --- | --- |
| | |
| ithe piston can partially unscrew from shaft and avoid to flow water in the group | the piston is designed to break after a certain number of years of use |