The brand "Zerowatt" was born in 50s and became famous in Italy for the production of small household appliances, washing machines, electric stoves. The company was acquired in the mid-80s by the Candy Group.
The first models (CA 705) date back to the 50s. Has 2 levers and a glass kettle.
In the '60s we found the model CA 707 precursor of model CA 708 and which differs in the shape of the lever bent downwards and for the piston manually operated.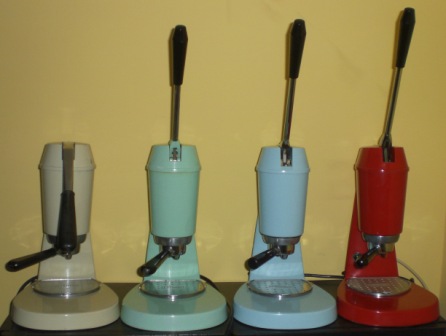 The Zerowatt CA 708 lever espresso machine for domestic uses a boiler opened and a heating element of 650 W. When pushes down the lever to actuate the plunger, it compresses the spring steel. In this way the water comes into the sleeve. When releases the lever, the piston, actuated by the spring, pushes the water through the coffee filter.
The machine from a feeling of strength thanks to the aluminum body printed in a single block, the handle made of good steel, aluminum tray with an unusual thickness of several millimeters, the nice spring steel and the piston in brass. Despite the lever is particularly long (28 cm) the effort of push down it is significant.
In the 70s-80s is produced the model CA 310, very rational with water level indicator and supply of steam and the model CA 709 replica of Caravel Ursula by Giubel.
Description
Zerowatt CA 705

v.1.0

anni '50 - brown handle - bronze base - group and base chrome - body painted

sn 163

Zerowatt CA 705

v. 1.1

anni '50 - black handle - aluminium base - group and base painted - body chrome

sn 0931

Zerowatt CA 707
anni '60 - manual piston - sn 2537
Zerowatt CA 708

(v. 1.0)

analogous to previous but with piston with spring - sn 8750
Zerowatt CA 708

(v. 1.1)

analogous to previous with few aesthetic changes - sn 10387
Zerowatt CA 708

(v. 1.2)

analogous to previous with few aesthetic changes - sn 11414
Zerowatt CA 708
model made in Spain with lever longer and brass piston - sn 16803
Zerowatt CA 709
anni '80 - manual piston
Zerowatt CA 310
anni '80 - piston with spring
Zerowatt CA 310
anni '80 - analogous to previous