FE-AR, founded in Milan by Felice Arosio, has been produced almost 30 years from the late 50's to the mid 80's. The only model is that of a lever machine, minimalist in design and function. It was also marketed by Carimali with the name of Piccolina.
The design of the machine has remained the same throughout the years with a few minor variations in cosmetics. The early models had a more bulbous kettle which eventually gave way to a more angled geometric kettle in later years. In 1980 the Termomatica model was introduced with a thermostat and double switch.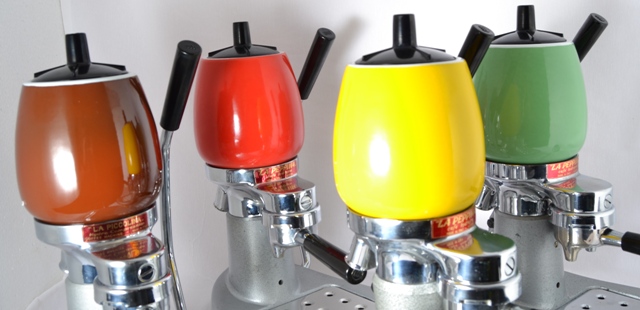 The Peppina has an open boiler with a lever, spring and piston mechanism. By pushing down the lever, the spring and piston are depressed allowing a cylinder to fill with hot water. By letting go of the lever, the spring/piston then presses the hot water through the coffee grounds. The result is a very good espresso.
It is the lightest lever machine manufactured, weighing 7.7 pounds (3.5 kilograms). It can be easily disassembled in minutes and has just a few parts. Being lightweight, none of the parts have a feeling of strength and durability, but yet the machine has performed admirably over the years with many still in use today.

The charm and beauty of the La Peppina is in the genius and originality of the whole machine. Beautiful, simple and easy to use. It easy for us to forgive any shortcomings it may have.

Description
1958
La Peppina zero model

(v. 0)

model conforming to the original patent
1960
La Piccolina

(v.1.0)

model produced by FE-AR and marketed by Carimali

(sn 4124)

1960
La Peppina

(v. 1.0)

model branded FE-AR

(sn 4139)

1960
La Peppina

(v. 1.0)

model branded FE-AR

(sn 4165)

1960
La Peppina

(v.1.1)

model with modified base

(sn 5016)

1959
La Piccolina

(v.1.1a)

model produced by FE-AR and marketed by Carimali - 110 volt

(sn 4757)

1961
La Peppina
model with different shape of the kettle and for the automatic ejector

(sn 9817)

1965
La Peppina London

(v.2.0)

intermediate model between the first (for the kettle and lid) and the second (for the base and grid)

(sn 04109)

1966
La Peppina MEC

(v. 2.0)

analogous to previous model

(sn 69086)

1968

(v. 3.0)

model 700W with new design for base, kettle, grid

(sn 85088)

1975
La Peppina NIB

(v.3.0)

model 700W with airtight lid for steam

(sn 5 07)

1976
La Peppina

(v 3.1)

model 950W

(sn 6 10)

1979
La Peppina

(v.3.2)

model 1100 watt - 110 V

(sn 8 04)

1980
La Peppina

(v.3.3)

model 1000 watt, lever and grid modified

(sn 1 05)

1985
La Peppina

(v.3.4)

analogous to previous with part black painted and plastic drip tray
1978

La Peppina Termomatica

model 1000W with thermostatic control